This is a Qype Spain place. View the Qype Spain page here: Los Caracoles - Ciutat Vella
Los Caracoles
Ciutat Vella, Barcelona
Address:

Escudillers 14, 08002 Barcelona

Contact us:

+34 93 301 2041

User's info

Price range:

Pricey

Alcohol specialty: Beer/Wine
Credit cards accepted: Yes
Wifi: None
Child friendly: No
Smoking area: No
English spoken: Yes
Air conditioning: No
Parking: Street
Outdoor seating: No
Vegan: No
Disabled access: No
Groups: Yes
Best for: Lunch
Toilets: Average
Michelin stars: 0
Reservations: Yes
Private parties: Yes
Best for: Romantic
Additional information
Bernie´s Diner Barcelona Burger
Via Laietana 20 loc 1, 2 y 3 20, Loc 1, 2 y 3, 08003 Barcelona
More than just burgers … A Genuine American restaurant in El Born, Barcelona. A place where you can eat well, drink cocktails and enjoy an amusing "retro" environment.
9 reviews of Los Caracoles in English
Offensive content?
Well, in Barcelona the usual way to spend an evening is to leap around the tapas bars with a glass here and a nibble there until you are either sated, inebriated, both, or just dog tired.
Whichever way, I'd say this place is a 'must-visit' for everybody. The dining room upstairs has a collection of photos of the great and good who have eaten there, but is not a tourist joint.
You might have to wait, but that's probably because people don't bother to book.
One of the specialities is spit roast chicken which was fantastic. As for the wine – it's fine if you know what to ask for.
I've seen reviews saying that the staff can be a little curt but didn't experience that. Learn a couple of words in Catalan ('Please' and 'Thank you' are sufficient) and they visibly appreciate it. It also seems to help them give that good old bottle of Carlos Primera a bit of a flourish when pouring. ;-) The decor is very typical with the tiles. Lots of old wood and appetizing things like hams hanging from the roof above the stairs.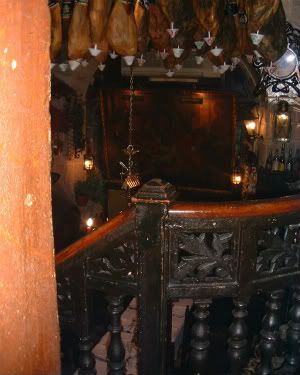 >
What is fun is that you have to enter through the kitchen, which is quite an experience.
Not wildly expensive and certainly outstanding value.
Do it!
P.S. The correct address is Escudellers nº 14, Barcelona 08002 (near the Ramblas)
Offensive content?
I strugled a little with this review.
First time the atmoshpere was great! Funny bartender, Wonderful chicken, A little background spanish music, Great rioja wine, good deserts and great service from our waiter.
Second time i entered the place the atmosphere was low and i didn't even stay!
Must visit but for one time only!
keep the wonderful taste and atmisphere in your imagimation…
Offensive content?
Great old restaurant. I was sent there by a friend, and had the chicken from the rotisserie and a beer for 23 euro. It was great food; and the atmosphere of the place was fantastic - with the restaurant seating in the back of the place, past the kitchen.
Well worth a visit.
Offensive content?
I don´t quite get those English: yes, this place is full of tourists. And I didn´t see those chicken racks they talk about (it was probable too early for outside grilling). I just asked for what they know best to do. And their ´pimientos de Padron´(poorly translated on the menu, I agree) but which even a child can get right were just perfect. Further, I got langostiñas a la plancha - another simple dish - which also came out succulent. To that, I had Albariño from the Rias Baixas which probably no English have ever heard about - and all in all, I had a very good, but not cheap meal. Hey, you want fish and chips everywhere? The service was excellent (at one point, one waiter said to mine that he should get me a bowl to wash my fingers, and he did right away.)
Offensive content?
Stumbled across this restaurant in Barcelona - it was closed at the time, but looked interesting, so we went back in the evening. Great atmosphere; they BBQ chickens on a grill built into the exterior wall and you have to pass almost through the kitchen to get to your table. Great steak was had. Keith Floyd cooked in the kitchen years ago. Heartily recommended.
Offensive content?
If you feel like spending your money on bad food and sit back to back with half of the tourists in BCN… Los Caracoles is your place.
Expensive, hardly eatible (we even had to send lamb back to the kitchen), waiters that are uninterested in giving you a nice time.
The lonely planet is wrong!
Horrible.
Offensive content?
I'd been meaning to find this restaurant again since my last visit to Barcelona several years ago.
Unfortunately, I'd forgotten the name of the place although I could clearly renmember the atmospheric outdoor chicken spits and the fact it was just off Las Ramblas. And so it was that I somehow, quite unexpectedly, turned a corner in Barri Gotic and find myself back at Los Caracoles.
Day and night this looks great (there's something about seeing food cooked outside in the streets that is so evocative to the senses) I'm sure many a hungry vegetarian have questioned their morals and ideologies pass this place.
If you're lucky enough to get a table (it's was the word 'rammed' was invented for) then don't hesitate to taste a little of Barcelona history. Even more atmospheric on the inside this is cooking and eating stripped bare. Many of Barcelona's celebs have at one timed dined in here (see the wall photo's) although it's pretty clear this really caters for the tourist market, especially during the July/August period. I had chicken on my mind (the Derron Brown mind tricks outside clearly working) so chicken I ordered. Nothing more or less than I expected. Completely satiated my poultry desires and enough to feed the four of us. Washed down with a red wine I cannot begin to remember the name of, Los Caracoles is a must visit food parlour.
Perhaps might not win any stars for it's creative cooking but it does exactly what it says on the roast tin.
Offensive content?
Fantastic atmosphere, especiallly if you get a table at the back, i.e. right through the intricate maze to the far end. The kitchen looks like something out of Dante's inferno, rather the chefs than me, with a massive Aga sort of thing with hotplates glowing red, and which scorch your face as you pass.
Food?? Hmmm. Not exactly fine dining, probably because they are having to cater for about 250 covers. The spit roast chicken was very dry, and none of our party ate it all. Maybe a quarter would be enough. Not exactly succulent. Good drop of house red.
But an experience, and the decor was worthy of an admission charge.
Offensive content?
A very touristic restaurant near Rambla. We needed place for 20 people and that's not that easy to find.
The ambiente is nice, the food good if you don't choose fish. Specialty is chicken grilled over wooden coal. All the meat dishes have been as good as the tapas have. For me, there has been a bit too much fried food, but everybody has another taste. And the dessert was delicious, the best I had during my stay in Barcelona.
We had a bit of a problem to receive a wine that we liked - like nearly everywhere.
Here, in this touristic restaurant, the service was very friendly - not to be taken for granted here.
Write your review of Los Caracoles
Places nearby Los Caracoles
Bar Tequila C/ Escudellers 28 28, 08002 Barcelona
Getup_Early: "If you are lucky enough to find this place (well hidden, set back behind a red metal door down one of the typical tiny lanes in the Gothic Quarter ..." more...